Cancer is a word that instills fear in everyone. Cancer is the term used to refer to all types of malignant tumours. A malignant tumour usually grows quickly, often invades surrounding tissue as it expands and can spread via the bloodstream or lymphatic system to form more growths in other parts of the body.
There is a high incidence of cancer in Ireland. In an analysis of life cover claims in 2011 by Zurich Life, 47% of all claims related to cancer.
For serious illness cover claims by clients of Zurich Life in 2011 over 81% of females claims were cancer related. For males the serious illness cover claims for 2011 were 61% cancer related.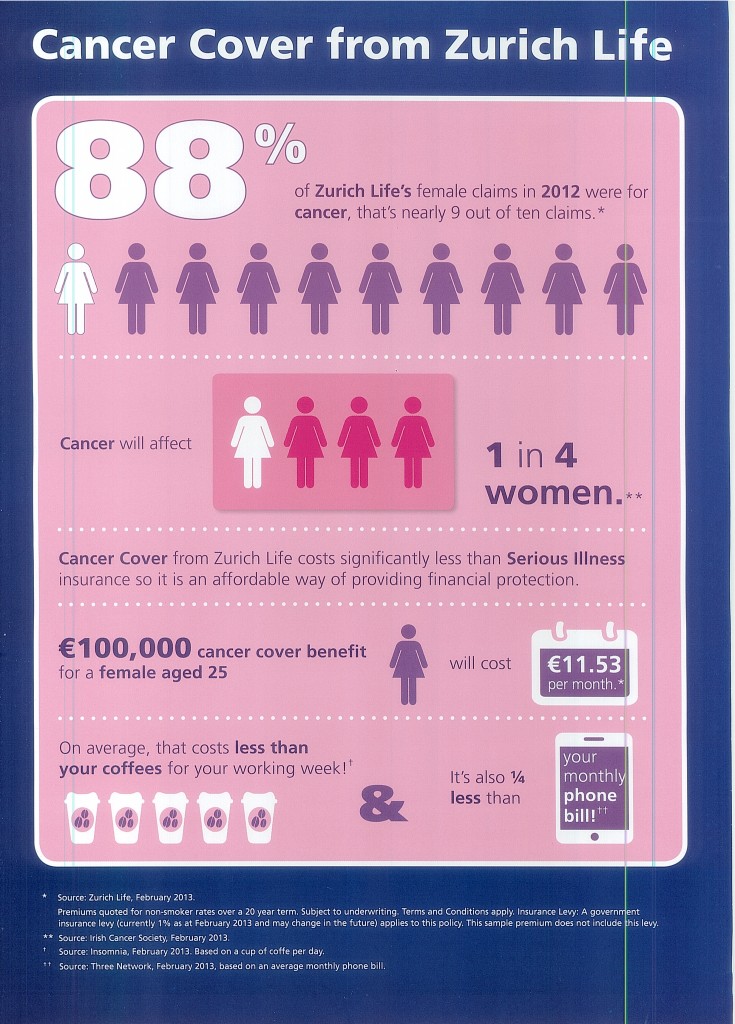 The most common cancers in Ireland in an Irish Cancer Society report in April 2012 showed the following breakdown:
Males
Non-malignant melonoma   42%
Prostate 29%
Bowel 14%
Lung 11%
Melonoma Skin 3%
Testicular 1%
Females
Non Malignant Melonoma Skin 36%
Breast 30%
Gynae 11%
Bowel 10%
Lung 8%
Malignant Melonoma Skin 5%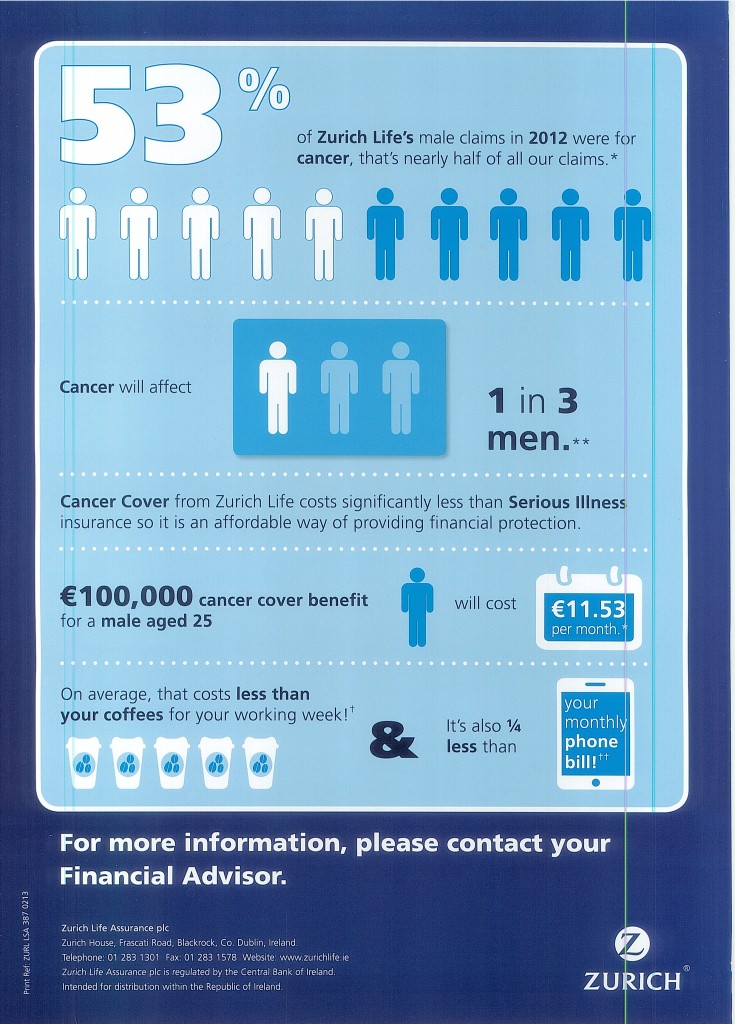 Cancer is covered in serious illness policies as a listed illness. However many people believe that serious illness is not affordable or that the amount they require is not affordable. With this in mind Zurich Life have developed a new product which just covers the risk of being diagnosed with cancer.
The product will pay out a lump sum on the diagnosis of cancer as defined in the policy document.
The definition of cancer by Zurich is as follows:
"Any malignant tumour positively diagnosed with histological confirmation and characterised by the uncontrolled growth of malignant cells and invasion of tissue.
The term malignant tumour includes leukaemia, sarcoma and lymphoma except cutaneous lymphoma (lymphoma confined to the skin)."
For the above cancer definition, the following are not covered:
All cancers which are histologically classified as any of the following:
pre-malignant
non-invasive
cancer in situ
having either borderline malignancy; or
having low malignant potential.
All tumours of the prostate unless histologically classified as having a Gleason score greater than 6 or having progressed to at least clinical TNM classification T2N0MO.
Chronic lymphocytic leukaemia unless histolgically classified as having progressed to at least Binet stage A.
Any skin cancer other than malignant melonoma that has been histologically classified as having caused invasion beyond the epidermis (outer layer of skin).
There are some partial payments that will be made on diagnosis of certain conditions as follows:
1. Carcinoma in situ – Oesophagus, treated by specific surgery
2. Ductal Carcinoma in Situ – Breast, treated by surgery
3. Low Level Prostate Cancer – with Gleason Score between 2 and 6 – and with specific treatment.
The partial payment amount that will be paid out on the diagnosis of the above 3 cancers is as follows:
50% of the Cancer Cover Sum Insured in force for that life, or

€15,000
For Cancer Cover the following are some examples of the Cancer Cover Cost:
Male      Cancer Cover (€100,000 benefit)
Age        Premium
25          €11.53 p.m.
35          €22.37 p.m.
45         €50.28 p.m.
Female     Cancer Cover (€100,000 benefit)
Age           Premium
25              €11.53
35              €22.37
45              €50.28
The above quotes are based on non smoker rates over a 20 year term. Subject to underwriting. Rates are quoted as at February 2013.
For more details and any queries contact me today at 087-1202405.